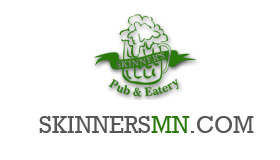 Welcome to Skinner's Pub and Eatery!
Sign up with your email to get updated information about what is going on at Skinner's and get great coupons. We offer delivery of our full menu!
Skinner's Pub & Eatery is a classic Saint Paul neighborhood bar and grill.You know the kind of place we're talking about – the local favorite for good food, friendly people, and low prices. Take a look at our menu and stop by for lunch, dinner, or happy hour to see what real Saint Paul hospitality is all about!